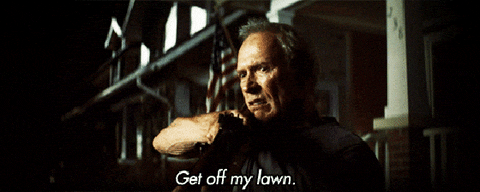 Okay, maybe this image of Clint Eastwood as Walt Kowalski from the movie Gran Torino (2008) is a little extreme. But we almost all of us know the "get off my lawn guy". Heck, sometimes these days I am the get off my lawn guy!
Maybe Homer Simpson is a better example, although I am sure there are Walt Kowalskis in the world.
When I was a kid on Dyson Drive in Atlanta, it was Colonel James G. Bogle. I am sure he was a nice man. He lived a long life (1915-2010), and I hope a happy one. Our family spent many evenings at the home of his family. His daughter, Alice, a few years older than me, had a wonderful bedroom filled with the most spectacular array of toys and games. I was allowed to play in there. According to my sisters, Alice also had all the best Barbie stuff. Col. Bogle kept up a miniature train wonderland in his basement. But I was afraid of him, and we all knew not to step on his lawn
Once, when I was in about 2nd grade, there was a hurricane warning issued, and the school decided to send us all home. It was getting really dark outside, and it was kind of exciting. My mother was at work, and couldn't come get me. We only lived a block away from the school, but I wasn't allowed to just walk home. So Col. Bogle came to pick me up and walk me home. I remember being frozen in place, afraid to go with him, and afraid of the coming storm. What's a scared little girl to do? Looking back on it, it breaks my heart to think of how he must have felt seeing my fear. I wish I could apologize, or have a redo, and slip my hand in his and walk down the street happily missing an afternoon of school.
I just finished reading the book A Man Called Ove, by Fredrik Backman. I loved this book, and loved the main character Ove. The book is at times funny, at others sad. Ove can be frustrating. But it's made me think about the stories of grumpy old men and how they came to be who they are.
I first proposed reading A Man Called Ove to my neighborhood book group after it was suggested to me by one of my animal shelter buddies (and one of my favorite volunteers). My book group declined; they had mostly all read it already and one guest (not a member, just visiting) said she didn't like it, finding grumpy Ove tedious. Hmmm. Makes me wonder if she is the Grumpy Old Woman version of the get off my lawn guy. (Unfortunately, I've had to give up the book group for the time being due to schedule conflicts. But I made some great friends and received so much encouragement from my fellow bookies regarding my school and career decisions.)
The book is from Swedish author Fredrik Backman, and has since been made into a film.
You'll notice there is a cat featured on both the book cover and the movie poster. Maybe that's partly why I love this book and I love Ove. The cat does play a central role in showing us Ove's lovable side. And he does have one.
I can't wait to watch this movie!
Speaking of movies, there was the Grumpy Old Men movie (1993) and the sequel, Grumpier Old Men.
And there was Harry and Tonto back in the day (1974), another lovable grumpy old guy with a cat.
Another great grumpy old guy who has a story we learn (and I cried over) and comes to find a new life is Carl Fredricksen, voiced by Edward Asner, in the Pixar animated film Up. This time it's a dog, named Dug, not a cat. Kids and animals are often the way to the heart of the grump.
One of my particular favorites is Peter O'Toole as Alan Swann in My Favorite Year (1982), not necessarily grump, but a handful with a back story.
The point is, everyone has a story. Ove's story was the loss of his beloved wife Sonja, the only person who ever seemed to accept him for who he was.
The story is often one of loss and loneliness. I write a lot about kindness toward animals, but I also worry that we aren't kind enough to each other. Bullying in any form is not okay, and often mistreatment of animals and of people go hand in hand. Whether it is your neighborhood Grumpy Old Man or Crazy Cat Lady, show some compassion. Like Ove with Parvaneh and her family, they might come to mean the world to you.
Peace and hugs.